6/28/16: Monty Lane Allen won a BMI AWARD last Tuesday nite for one of the most played songs in Southern Gospel Music, Glorybound, written by Monty Lane Allen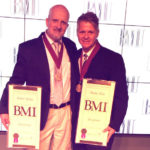 and one of his best friends Robert Arthur.  Glorybound was recorded and singled by The Whisnants.
Love That's Real
"Love That's Real" is the new single being released to Southern Gospel radio from NARROW ROAD.
Monty Lane Allen has had 14 consecutive top 40 hits in Southern Gospel that he has written.  He has had Number 1's in both the Singing News Chart and the Absolutely Gospel chart (fan voted)!
To hear more song samples from NARROW ROAD, visit the music shop!